Coastal NSW can expect unusually powerful swells late in the week, with hazardous and potentially damaging waves generated by a deep low in the Tasman Sea, the Bureau of Meteorology says.
The bureau has issued a warning for gale force winds on Monday for Sydney's closed waters and the Eden Coast, and for strong winds for most of the rest of the NSW coast.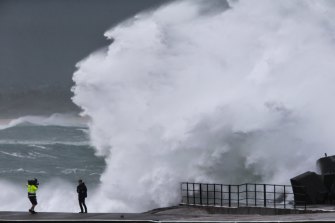 While similar conditions are expected on Tuesday, the bureau is likely to raise the alerts to hazardous conditions on Wednesday and for damaging surf on Thursday, Jordan Notara, a forecaster, said.
The combination of the deep low and a high pressure system is the source of the big swells. Wave heights for offshore Sydney will approach six metres on Thursday, "quite a rare event, particularly for August", Mr Notara said.
Advertisement
The record wave recorded for offshore Sydney in August stands at 6.41 metres. The current forecast is a moderation compared with predictions last week that pointed to waves of eight metres or higher during the coming event.
Waves are likely to reach three to four metres on Wednesday, producing hazardous conditions for those on the water, and rough rides for those on Sydney Harbour.
Swells should then increase, reaching their peaks at damaging levels late on Thursday, before easing back to merely hazardous levels on Friday, Mr Notara said.
All the waves will be coming from the south, and could cause damage to beaches such as Bondi, said Mitchell Harley, a researcher at the University of NSW's School of Civil and Environmental Engineering.
Waves could lap the seawall at Bondi during the worst of the swell, Dr Harley said, adding that the scale was about a once-a-year event.