Sports
Differing styles just a part of Matildas' World Cup challenge: Stajcic
The Matildas' draw gives them every chance to at least make the quarter-finals of the Women's World Cup.
And if they can do that, then anything is possible.
The Matildas will face a blend of styles and ability – some familiar faces and some strangers. Coach Alen Stajcic says that is part of the challenge of a World Cup.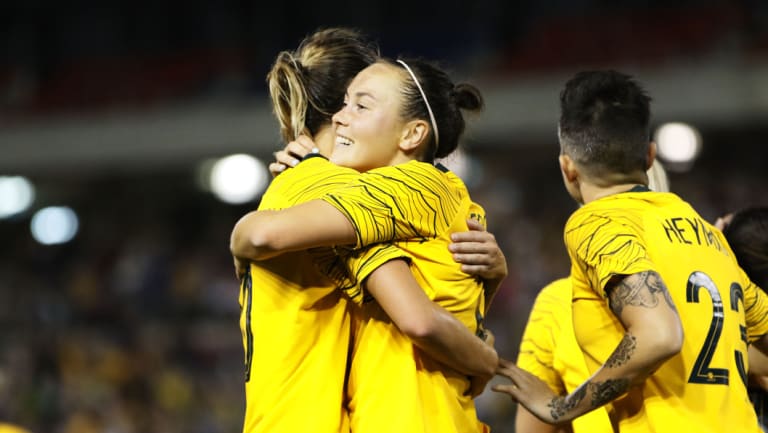 ''That's the maturity part being a team at our level,'' he said in a telephone hook-up from Paris following the draw.
Advertisement
''You saw at the Asian Cup we came up against a Korean team that sat back and tried to hit us on the counter-attack, then we came up against America who were their usual dynamic team.
''This World Cup will be no different.
''Italy are a very pragmatic, very strong defensively-minded team who are very well organised, so that's going to be a real challenge for us in game one.
''They beat Sweden just recently a month ago and Sweden went on to beat England a few days later, so that's the calibre of team we are playing against.''
Familiarity against Brazil certainly won't breed contempt.
''We know Brazil so well and they know us so well. We know what to expect from them, they have got so many superstar players.
''Formiga, who is 40 years old and has come back into the team and Marta and Cristiane along with their new players, Camilla and Rafaelle, they really have a team full of superstars and that will be a really tough game as they always are against Brazil.''
He acknowledged that Jamaica is an unknown quantity, but says that just qualifying makes them a good side.
''Jamaica is a team that has emerged almost from nowhere and produced a quick, dynamic, explosive team that played really well in the qualifiers and outdid Mexico who have qualified for virtually every World Cup.
''There are going to be unique challenges from different playing styles, but if you can't have the ability to adapt and change within a tournament and wihthin a game you should't be talking about being a threat at the World Cup.''
THE MATILDAS' GROUP-STAGE OPPONENTS
ITALY
Nickname: Azzurre (Blues)
Head coach: Milena Bertolini
Captain: Barbara Bonansea
Most caps: Patrizia Panico (196)
Top scorer: Patrizia Panico, Elisabetta Vignotto (107)
FIFA ranking: 16
World Cup appearances: 3 (first in 1991)
Best result: Quarter-finals (1991)
European championship appearances: 11 (first in 1984)
Best result: Runners-up (1993, 1997)
The Italian women's style is not dissimilar to the men's team – tough, defensively sound, organised and technically good. They have enjoyed some good recent results and will be no easy opponent, especially in a first-up game when everything is still to play for.
BRAZIL
Nickname: Selecao/As Canarinhas (The Female Canaries)
Head coach: Vadão
Captain: Marta
Most caps: Formiga (167)
Top scorer: Marta (110)
FIFA ranking: 10
World Cup appearances: 8 (first in 1991)
Best result: Runner-up (2007)
Copa America appearances: 7 (first in 1991)
Best result: Champions (1991, 1995, 1998, 2003, 2010, 2014, 2018)
CONCACAF Women's Gold Cup appearances: 1 (first in 2000)
Best result: Runners-up (2000)
Brazil and Australia are old foes and are well rehearsed in taking each other on in major tournaments. The Matildas have had the wood over their illustrious rivals in recent times, winning the last four matches between the two countries, including a 6-1 drubbing in the Tournament of Nations in the United States 14 months ago.
JAMAICA
Nickname: Reggae Girlz
Head coach: Hue Menzies
FIFA ranking: 53
World Cup appearances: 1 (first in 2019)
CONCACAF Women's Gold Cup appearances: 6 (first in 2002)
Best result: Third place (2018)
The Jamaican women have shown great improvement after reforming following a disappointing campaign in 2008 when they failed in Olympic qualifying. Cedella Marley is a celebrity supporter, the daughter of the late great Reggae artist Bob Marley, and helps raise the team's profile as well as providing financial support.
Most Viewed in Sport
[contf]
[contfnew]

[contfnewc]
[contfnewc]
Related