Tinder-dry, warmer-than-usual conditions in NSW have forced the Rural Fire Service to bring forward the start of its bushfire danger period for parts of the state to August 1.
Twelve areas – Armidale, Bega Valley, Eurobodalla, Glen Innes Severn, Inverell, Kempsey, Mid Coast, Nambucca, Port Macquarie Hastings, Tenterfield, Uralla and Walcha – are all now officially in bushfire season, the RFS announced on Thursday.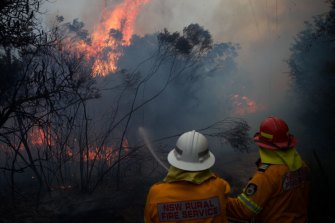 Traditionally the official start to the bushfire danger period is October 1, but in recent years it has been brought forward to August 1 in parts of the state's north-east.
This year, two Far South Coast regions – Bega Valley and Eurobodalla – are also starting the bushfire season two months earlier than usual.
Advertisement
An RFS spokesman said it's unusual for the South Coast to start the season so early – this is the first in about eight years. But the dry conditions and heavy fuel load warranted the earlier start.
Without reasonable rain most of the rest of the state including the Sydney region will most likely have the start of their fire seasons brought forward to September 1, he said.
"Conditions across the state are drier and warmer than average, with more than 98 per cent of NSW drought-affected," NSW RFS acting Commissioner Rob Rogers said in a statement.
"Last season we saw more fires in July and August than the whole of summer combined."
The shift follows a near-record warm July for much of the state. Sydney's average maximum temperature was 19.7 degrees – more than 3 degrees above the long-term average, 16.4, and scraping in just under last year's record July average of 19.9.
It was also an exceptionally dry July, with the vast majority of NSW experiencing below average rainfall. Sydney's total July rainfall was just 43.4mm, well under half the long-term average rainfall total of 95.7mm.
Statewide, rainfall was just a third of the normal level for July, the Bureau of Meteorology said.
Don't be a fire risk
During the bushfire danger period, landowners and managers are reminded they need a permit before lighting any fires on their properties.
Mr Rogers said the period also meant it was time for residents and managers to prepare for the threat of bushfires.