Environmental groups warn Adani's Carmichael mine and the governments that support it face widespread and growing protests across the country after the company secured final approval for the Galilee Basin coal project.
In a taste of what's to come, about 200 protesters gathered on Saturday outside the Indian High Commission in Canberra, with several dozen campaigning near the Indian consulate in Sydney. The target was not only the Carmichael mine but the Indian company's destruction of Hasdeo Arand tribal land forests in its home nation.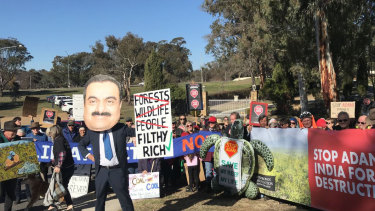 "We're just gearing up," Bob Brown, the former Greens leader, told The Sun-Herald and the Sunday Age. The company and governments are "going to be surprised by the variety and vigour of the protests".
The Morrison government hailed this week's final environment approval being granted by the Queensland Labor government, saying the $2 billion Carmichael mine would open the first new coal province in Australia in half a century.
Advertisement
Green groups, though, say the potential annual output of the Galilee Basin – put at as much as 300 million tonnes of thermal coal used in power plants – would amount to the equivalent of doubling Australia's yearly greenhouse gas emissions.
"There is a climate emergency and any new coal project is going to face sustained and increasing opposition," John Hepburn, executive director of the Sunrise Project, said.
For its part, a spokesman for Adani said "everyone is entitled to their own opinion".
"We encourage people to base their opinion on the facts, and to conduct any protest activity legally and safely, without putting themselves or our employees at risk," she said.
In central Queensland, "a couple of hundred people" about an hour's drive for Bowen are preparing "direct action" to block construction starting on the Adani mine, said a spokesman for Frontline Action on Coal who gave his name only as Charlie.
"We will take whatever measures that are effective and necessary to stop the work," he said, adding supporters had streamed in from as far as Western Australia and far north Queensland and others were welcome.
Other groups, such as the Galilee Blockade, are preparing a mass protest in Brisbane in early August, and is already conducting non-violent protest training along the lines of the recent Extinction Rebellion that shut down central London for days at a time.
Since first-time protests attract fines of $200-$300, the plan is to have waves of such arrests, to avoid most costly penalties that repeat offenders face.