Most of NSW's coastal areas are being warned to batten down the hatches as damaging winds and surf are set to pound 1000 kilometres of coastline from Monday afternoon.
A severe weather warning issued by the Bureau of Meteorology on Monday morning stretches from Victoria to Kempsey on the NSW Mid North Coast, with damaging winds and heavy surf forecast to begin late on Monday and continue into Tuesday.
While a small amount of rain is expected to fall on Sydney on Monday, between 20 and 40 millimetres are forecast for Tuesday – the likes of which have not been seen in Sydney since March.
The weather bureau said a front crossing NSW would deepen into a low pressure system off the southern half of the coast late on Monday. A trough associated with this low will then sweep from south to north on Tuesday, generating "vigorous southerly winds and dangerous surf".
Advertisement
Winds averaging 60 to 70km/h with peak gusts in excess of 90km/h are expected to develop along the coastal fringe and higher parts of the ranges in the far south from late Monday, then extend north.
The wild winds are expected to reach the Sydney metropolitan area on Tuesday morning.
Wind gusts across the alpine peaks may reach 125km/h late on Monday and early on Tuesday, the bureau said. Those gale force winds, combined with snowfall, might lead to blizzard conditions in the alpine areas.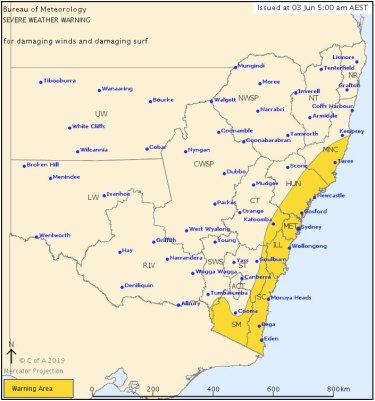 The bureau is also predicting heavy surf, with waves in excess of five metres in the surf zone, which may lead to localised damage and coastal erosion.
Beachgoers are warned to stay out of the surf and away from surf-exposed areas, especially on south-facing beaches.
The State Emergency Service has advised people in the area of the warning to move vehicles under cover or away from trees, and secure any loose items on balconies or in gardens.
Weatherzone meteorologist Tom Hough said Sydney was in for a "fairly miserable" couple of days despite temperatures around average, thanks to the wind and rain forecast – mostly for Tuesday.
"Tuesday has the potential to be fairly miserable for anyone in the city; it's going to be a pretty wet and very windy day," he said.
But, as the state enters its first week of water restrictions, rainfall is likely to remain "mainly coastal", with less than five millimetres expected west of the ranges on Tuesday, Mr Hough said.
Mild winter ahead after one of NSW's warmest autumns
Despite the blasts of cold weather parts of NSW have received in the last couple of weeks, NSW has recorded a "very warm" autumn – and the winter ahead is expected to be
[contfnewc]
[contfnewc]