A senior Russian senator has addressed the Inter-Parliamentary Union in Geneva with a letter describing the latest US sanctions against Russian lawmakers as a violation of their rights as elected representatives of the people.
In his message the head of the Upper House Committee for Foreign Relations Konstantin Kosachev, wrote that it appeared the US Treasury Department imposed sanctions against him due only to his work as the head of the senate committee – because this was the only post he had occupied since 2014.
Read more
"The most insulting and worrying aspect in this whole process, which is illegal from the perspective of international law, is that the names of parliamentarians were put on the blacklist without any explanation. This can be seen as a systematic attempt to violate human rights of our parliamentarians along with their basic human rights," the letter reads.
Kosachev listed the names of all 22 acting and former Russian senators who are affected by the existing US sanctions. The senator himself was blacklisted by the US Treasury Department in early April this year.
"When I learned that I had got put on the sanctions list I visited the Treasury Departments web-site to see their arguments. But there were no arguments there and also for some reason I was described as a member of the Russian government. Besides, my name was put alongside some people from the Islamic State and An Nusra Front and a whole crowd of some criminals," the senator complained.
Read more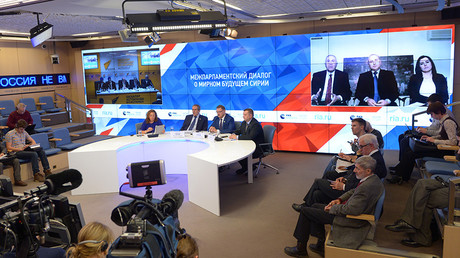 In the letter Kosachev asks the Inter-Parliamentary Union to consider the possibility of a special resolution that would denounce any sanctions against foreign parliamentarians as inadmissible.
Launched in 1889, the Inter-Parliamentary Union is the oldest such group in existence. It unites the members of 170 national parliaments, and 11 regional parliamentary assemblies are associate members. The group holds permanent observer status at the United Nations. The United States is not a member of the union.
Russia intensified cooperation with the IPU after it froze all activities with PACE, another international inter-parliamentary union. The suspension of ties came in 2014, after the assembly stripped the Russian delegation of its voting rights and banned it from participating in the groups ruling bodies over the political crisis in Ukraine. According to Kosachev the union can look into his complaint as early as in June.
[contf]
[contfnew]

[contfnewc]
[contfnewc]