Having lifted the trophy in 2009, the Spaniard entered this year's tournament once again bidding to become the first man in the Open Era to win each of the majors twice. Alas perhaps it is not meant to be for one of tennis' greatest ever players, whose career has been punctuated by injury.Follow @cnnsportThe injury curse at Melbourne Park struck Nadal again Tuesday when the Spaniard was forced to retire against Marin Cilic with an upper right leg injury in the fifth set of their quarterfinal.The frustrated world No. 1 exited to give the sixth-ranked Cilic a 3-6 6-3 6-7 (5-7) 6-2 2-0 victory in front of a stunned, disappointed crowd at Rod Laver Arena. READ: Edmund, Mertens reach semifinalsWhen was the last time Nadal retired in a grand slam match? In 2010 against Andy Murray at you guessed it, the Australian Open. And the woes didn't stop there. A hamstring injury in the 2011 quarterfinals against David Ferrer ended his hopes of achieving the "Rafa Slam" — winning four straight majors — while a back injury in the warmup of the 2014 final rendered him far from his usual self against Stan Wawrinka. None of the injuries were pre-existing, unlike in some of his surprising defeats at Wimbledon. "In this tournament already happened a couple of times in my life, so it's really I don't want to say frustration, but is really tough to accept," Nadal acknowledged to reporters afterward. Unable to put in his usual preparation in the off-season because of his ever troubled knees may have been a contributing factor Tuesday. Nadal skipped an exhibition in Abu Dhabi the first week of January and then the Brisbane International.
Preparation good
The 16-time grand slam winner was thus short of match fitness. "Maybe if I had the chance to work as hard as I worked last year, maybe will not happen," said Nadal. "But was not the case. I had the knee, and I had to go slower, step by step."We worked as much as we could to be ready. We think we were ready. At least we were in quarterfinals only losing a set. Preparation went quite good. I was playing good tennis. I was fighting for a grand slam."It was a shame the contest under the lights finished with the rare retirement given the quality provided by both Nadal and 2014 US Open champion Cilic. Nadal might look back and think that if he won the second set — and he led by a break at 3-2 — the encounter wouldn't have gone to a fourth set and the injury wouldn't have happened. But an on-fire Cilic stormed to the last four games of the second and his power game had Nadal on the ropes for most of the gripping third set. Nadal withstood two break points in two different games to lead 5-4 on serve. A tense Cilic waned slightly under the pressure of serving to stay in the set but saved a set point when Nadal failed to connect on a backhand pass with his opponent in trouble. A dramatic tiebreak ensued, featuring a punishing backhand winner from Cilic and later a crushing return from Nadal. At 5-5 Cilic overhit his forehand with Nadal stranded and when the Mallorcan put away a smash to claim the set, most justifiably thought the affair was done. Nadal celebrated in style, his bulging biceps on show in his sleeveless shirt. How could Cilic — who had lost five in a row to Nadal, claiming one set — recover from that? Respite for the Croatian came courtesy of the Nadal injury. Nadal suspected it happened on a particular shot in the fourth set. The trainer visited Nadal at 4-1 but ultimately it had little effect. Nadal glumly walked to the net to shake hands when he was broken at deuce in the second game of the fifth and swiped his arm in angst when at his chair. "Start to feel the muscle little bit tired in the third, but playing normal, no limits, no limitation," he said. "Then in the fourth at one movement, one drop shot I think, I felt something. At that moment I thought something happened, but I didn't realize how bad, how bad was what's going on in that moment."Just happened and accept the situation. That's all."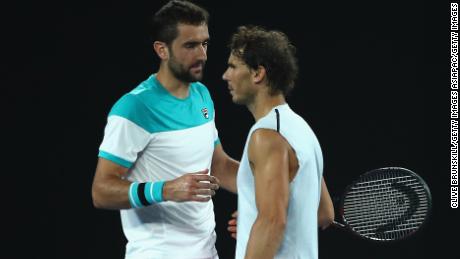 Nadal is due to have an MRI on Wednesday to discover the extent of the injury. The result ensured no repeat of the dream 2017 final between Nadal and Roger Federer — the Mallorcan also endured a difficult moment back then in surrendering a break lead in the fifth set — but a repeat of the Wimbledon final remains a possibility.
'Very unfortunate'
Cilic lost to Federer at SW19 when hampered by a foot injury, so he knows what it is like to be less than 100% on court. "In the end very unfortunate because Rafa is always fighting really hard, always giving the best on the court," said Cilic. "I guess in the pre-season he had some troubles with the injuries, but he came here prepared really, really well. "He played a very good tournament. Obviously very sad for him to finish the way he did."To reach the final Cilic must beat the unseeded Kyle Edmund, who upset third-seed Grigor Dimitrov 6-4 3-6 6-3 6-4.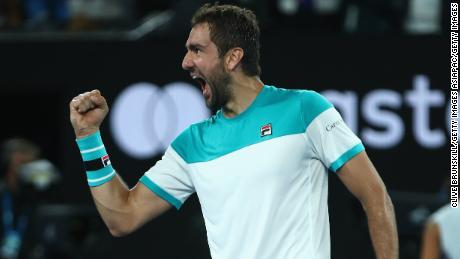 Federer meanwhile meets 2010 Wimbledon finalist Tomas Berdych. The Czech star is ever dangerous but is 6-19 against Federer. In the other quarterfinal, the unlikely duo of Hyeon Chung and Tennys Sandgren battle. Chung is a prospect but had never made a slam quarterfinal while No. 97 Sandgren had never won a grand slam match prior to this fortnight. READ: Chung beats injured Djokovic Nadal has won plenty of grand slam matches in his career but Tuesday wasn't one of them. "Always in the tough moments, even if difficult to think about it, there is so many positive things that happened in my career," he said. "It's a negative thing, but I don't going to complain because happened to me more than others. But on other hand I was winning more than almost anyone. Who will the Australian Open? Have your say on our Facebook page"That's the real thing. But who knows, if I didn't have all these injuries…"
Original Article