Russian Foreign Minister Sergey Lavrov and his UK counterpart, Boris Johnson, have highlighted the need for the two countries to cooperate on security ahead of next year's FIFA World Cup in Russia.
Johnson is in Moscow on the first such visit by a UK foreign secretary in five years. He and Lavrov discussed a range of issues in their meeting and subsequent press conference on Friday, including cooperation between the two countries' security forces.
When asked about joint anti-terrorism and security efforts, despite current strains in UK-Russia ties, Johnson said next year's football showpiece in Russia was an important area to focus on.
Read more
"Since serious difficulties arose in our relationship, we've been unable to have the full cooperation [on security issues] we had in some previous years," Johnson said. "But that doesn't mean that cooperation isn't taking place at an important level… There are contacts that are taking place, particularly in the run-up to the World Cup.
"It's important that forces coordinate their activities to ensure that Russia has a great and safe World Cup, and that everyone enjoys it."
The foreign secretary brandished a notepad from the Russian Federal Security Service (FSB), citing it as evidence of cooperation between the two nations' security forces.
"I happen to know that our security services must be coordinating their activities because someone has just given me a pad from the 'Federalnaya Sluzhba Bezapasnosti' (Federal Security Service, FSB)," Johnson said, demonstrating his knowledge of Russian.
"A member of our staff has been in a meeting and taken this pad… So we are talking, just perhaps not quite in the way we were in the past."
Russian Foreign Minister Lavrov took the chance to congratulate England on qualifying for the Russia 2018 World Cup, and agreed on the need for cooperation at all levels on ensuring security for fans.
READ MORE: 'Football thugs to be barred from Russia during 2018 World Cup' – Deputy PM Mutko
"First, I'd like to congratulate England on qualifying… There is already cooperation between security services regarding safety at the World Cup, and I know there have been meetings at the level of the interior ministries," Lavrov said.
He warned, however, that the UK had impeded progress on security issues through decisions taken in the wake of the 'Litvinenko affair', in which a Russian former security agent was poisoned in London.
The UK has accused Russian state actors of being behind the poisoning, while Moscow has rejected the allegations.
"The FSB would be engaged [in World Cup security], as it should be, in that kind of event. But truly effective cooperation in the fight against terrorism has been impeded by the UK's decision, taken in relation to the Litvinenko case, to suspend all contacts with the FSB," Lavrov said.
"Without full contacts between the FSB and London, we cannot hope to have tangible success in this area," he added.
Read more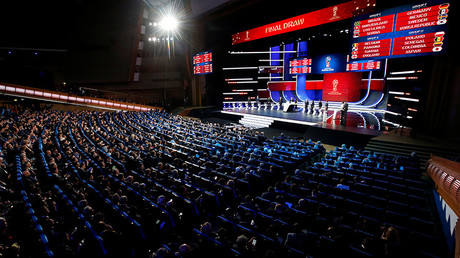 The World Cup will be held in Russia for the first time next summer, between June 14 and July 15, at 12 stadiums across 11 host cities.
England have been drawn in a group with Belgium, Tunisia and Panama, and will play their games in the Russian cities of Volgograd, Nizhny Novgorod and Kaliningrad.
In addition to counterterrorism measures, attention will also be placed on preventing clashes between fans, particularly following the violence between English and Russian fans at the European Championships in France in 2016.
UK and Russian police forces have held meetings in this regard, including contacts during the recent Champions League matches between Russian teams CSKA Moscow and Spartak Moscow and English clubs Manchester United and Liverpool.
The post Russian & UK foreign ministers talk up need for World Cup security cooperation appeared first on News Wire Now.